Stumbling Over Chaos
Oct 20
as the true face of hockey on tumblr, i object.

LBR, the true face of hockey on tumblr is probably a dick pic where about half of fandom has written tag porn about Kaner and Tazer, roughly another half wrote porn about Geno and Sid, and then there's like, 10% of the fandom organizing a dick pic rare pair challenge.

There also may be puppies.  
And kittens!
Oct 19
A true bookmobile in front of Wild Rumpus in Linden Hills yesterday.
More about Dana Heinze, Pens equipment manager
"It's the little details that set us apart," Heinze said. "People might think it's excessive or extreme, but I think it makes a difference."

Heinze, 46, is a master of details. The 2014-15 season is Heinze's ninth in his current role, each more obsessive-compulsive than the last.

The man who outfits the Penguins, who fixes equipment, who sharpens skates, who ensures players are offered their preferred hair product and who organizes the locker room, leaves no box unchecked.

Heinze and the three men working under him — Dan Kroll, Teddy Richards and Jon Taglianetti — travel with signage and rugs to make visiting locker rooms feel like home.

Before leaving, however, those same four men set up the home locker room at Consol Energy Center as if there was a game. Why?

"Because I'll know it's not perfect," Heinze said.

Crazy? Perhaps. But that's Heinze's world. It's one that starts before 6 a.m., regardless of whether the team returned home only a few hours before.

On game days, Heinze doesn't make it home for the 11 o'clock news. Or Letterman.

Heinze's wife Kathy said her husband logs 90-100 hours per week in season.

….

"He brings an energy to the locker room," forward Beau Bennett said. "He's a quirky guy; you love to see him in the locker room because he's a fun guy to be around.

"He's always there asking what you need. He's getting it done right away, and he's in your corner."
- Jason Mackey, "Penguins equipment manager attends to multitude of details", TribLive, 2014-10-18
Oct 16
(Source: essouffle, via blue--spruce)
"Read. Read anything. Read the things they say are good for you, and the things they claim are junk. You'll find what you need to find. Just read." — Neil Gaiman. (via ifreakinlovebooks)
(via wilwheaton)
Oct 15
Why Sidney Crosby is trying to be more like Patrick Kane

Patrick Kane has wowed the NHL since his arrival to the Blackhawks in 2007 with his impressive stick-handling skills, but it says a lot when a two-time league MVP goes out of his way to emulate Kane.

Pittsburgh Penguins forward Sidney Crosby recently revealed to NHL analyst Barry Melrose that he sought out Kane's stick-handling coach this past summer and worked with him during the offseason.

But why would the guy who leads the league in scoring go see someone else's stick-handling coach?

"Patrick Kane has more room than anybody on the ice," Crosby responded.  

Crosby is right, and it doesn't take long to see the way Kane maneuvers through opposing teams each night, keeping his opponents away from the puck.

Crosby wanted to see if Kane's coach could make him even better.

[x]
(via dj-penguin)
Mopping Is No Longer a Chore With a Penguin Gliding Across Your Floor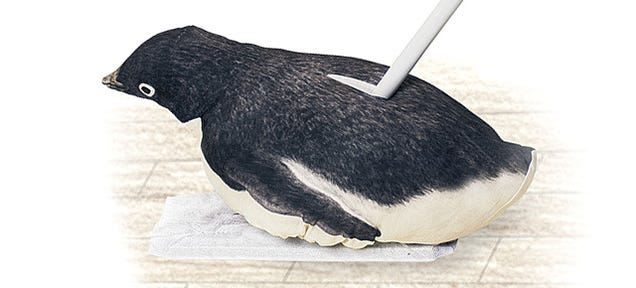 Even if you get a lot of satisfaction from standing back and looking at your freshly cleaned home, no one really likes all the work needed to get to that point. And while there are countless products promising to make cleaning easier, maybe we need to start focusing on making it more enjoyable, and this adorable penguin accessory is a pretty great start.

The plush version of everyone's favorite flightless bird can actually be used with almost any mop since a hole through its torso lets it simply slide down the handle. But for the best effect, using it with those flat dusting mops will make it look like this little penguin is gliding across your floors on its belly. Adorable. It's available from Japan's Felissimo for around $30, which means you'll have to import it, or find and gut a stuffed penguin toy to make your own. [Felissimo via Spoon & Tamago]
- Andrew Liszewski, "Mopping Is No Longer a Chore With a Penguin Gliding Across Your Floor", Gizmodo 2014-10-15
Oct 14
Crosby puts to rest any debate about who's best
Sidney Crosby does not just kill a conversation. He interrupts things mid-sentence, flips over the table, cuts all power to the room and leaves you as confused as a member of the Toronto Maple Leafs attempting a breakout.

It is just two games into the Pittsburgh Penguins season and there is already no oxygen — no life — left in the hottest of hot takes from last spring.

Indeed, that tortured discussion about who had displaced Crosby as the best hockey player on the planet seems like nothing more than hot air right now. After two dominant games, six points, and an immediate return to his normal spot at the top of the NHL's scoring table.

The only thing Crosby should really have been accused of last May was a run of bad luck. For all of the attention his one goal in 13 playoff games garnered, many conveniently overlooked the fact he directed 38 shots on goal.

This is a man who has scored on 14.6 percent of his shots during 647 career NHL games. Realistically, what were the odds of him continuing at a clip of 2.6 percent if the Penguins hadn't blown a 3-1 series lead against the New York Rangers?

While the emotional baggage of another playoff disappointment had long since subsided by the time Crosby arrived at Air Canada Centre on Saturday, the memory of what was said about him had not.

Not unlike many of the all-time sporting greats — Michael Jordan and Tiger Woods jump immediately to mind — Crosby seems to be able to turn perceived slights into fuel. And over 120 minutes of hockey he has energetically gone about moving past his most pointed round of criticism yet.

….

Mentally, No. 87 seems to be in a good place right now.

After the failed expectations and the house-cleaning the Penguins endured over the summer, the new season has brought a new perspective.

"Losing that series last year was pretty heavy," Crosby said Saturday. "I think it took a long time for that sting to go away. … Just being able to turn the page and start fresh, I think that's exciting, knowing that everything else is in the past."

That includes the misguided talk about Crosby no longer being the best.

We've been through this before. All of that chatter in Sochi about Crosby's ineffectiveness sure looked silly when he secured Canada's second Olympic gold in four years by going backhand-deke on Henrik Lundqvist.

One of the big talking points around Crosby early in his 10th NHL season is his advancing age. Scott Oake got a chuckle out of the 27-year-old in a pre-game interview on "Hockey Night in Canada" when he asked about some refusing to let his Sid the Kid nickname die.

There are so many young stars to watch in the sport right now — hello John Tavares and Steven Stamkos — and someone will eventually wrestle the crown away from Crosby. It happens to every superstar.

But if there's one thing we've seen already this season it's that the time is not now.
- Chris Johnston, Crosby puts to rest any debate about who's best, SportsNet, 2014-10-12
Will the Hot Starters From Around the NHL Continue All Season?
We see it every season. A handful of players come out of the gates ablaze, lighting the lamp at an absurd rate and racking up points faster than fantasy league owners can snatch them up off the waiver wire.

The 2014-15 campaign hasn't been any different. With a few days of the regular season in the books, we're seeing points coming from some strange places.

Can fans of those players and teams expect the same level of output all season long? Guys obviously aren't going to continue to churn out two or three notches on each and every score sheet, but a breakout season could be in store for a few players.

Which ones though? Who will be able to sustain their early season impressions?

….

Sidney Crosby – Pittsburgh Penguins

Anyone who doesn't think that Sidney Crosby is the best offensive player in the world is simply supporting their favorite player on their favorite team. Be it Claude Giroux or Patrice Bergeron, fans from a number of teams like to say that Player X is better than No. 87.

Sorry to burst your bubble: whoever you think Player X is, they aren't better at putting up points than Crosby. As mentioned above, he's tied with Nelson for the scoring lead and he may never fall off that perch as the campaign rolls on. The Penguins are playing a tighter, puck possession fueled brand of hockey, and Crosby could push towards 120 points once again.
- Franklin Steele, Will the Hot Starters From Around the NHL Continue All Season?, Today's Slapshot
Oct 13
[video]